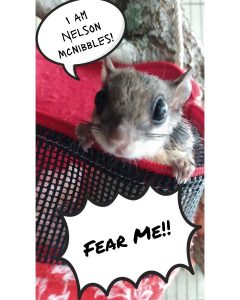 Hi Friends, so some of you want to know about my little friend, Nelson McNibbles.  I do bring him to work but most of the time he is asleep and up late at night. He's a fun pocket pet and reminds me everyday to be a More Gentler and Loving person.
I hope to meet you and Gift you a Great Massage and Time! Please be patient if I can't see you the moment of the day you may call. You have my number now and keep me in mind to schedule in the morning.
FYI: I do the fyi  thing just to give my reasons and thoughts on topics that may or may not help you find what your looking for in a Massage with me.
I advertise on "skipthegames' at this time because honestly, there is not many choice to advertise and google ad cost $250 and skipthegames is Free. So when they contacted me and let me know they have a "Massage' section, I thought sure why not and I have had a few Great clients from there. Maybe in the future you may give me a try too?
In my small business, I trying to get people to see how Wonderful a massage can feel like when given by someone who cares about you and offers more time to enjoy yourself on my table.  My place is an office but its Quiet, Private and Vintage music selections to fall asleep or sing along to from the 70's era.
Thank you so much for reading my Blog!
Have a Beautiful Day!
Cheers