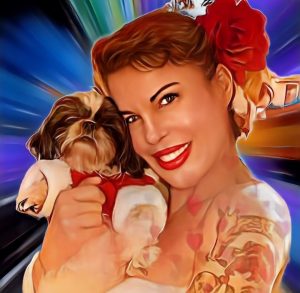 Hi Friends, for those who don't know me yet, I usually will Once or Twice a month Add something New to my Blog and many times Add New Videos, Pictures and My Thoughts through out my Website. So sometimes you have to go on like a 'Easter Hunt' to see what New Stuff you may Find New & Fun!
My Goal is to Offer the Best Tailored Massage Possible for You! Big, Small, Artificial Hips, Shoulders & Knees, I've seen it All! I Really Do Love Helping You Feel Better! My Sessions will make You Smile, Feel Better and Be Glad You Came to See Me!
Thank you to all my clients that Really Make My Days The Best & Fun Too!   Cheers to you and all your stories & pictures about your Pets and all the Cuties out there. Wish I could have many more animals in my Life! Pets are Always Welcome!
Please Check out my Service page if you Don't know me. I'm not Affiliated with Anyone who works Anywhere Else and I try to advertise the Least times Possible. Why? Because no matter where I advertise, I get confused with the Either Asian Services or Many Girls working at Brothels now throughout the area. I  am not into Selling my Body Parts to make a quick Buck! I want to Earn my Money by you Leaving going…"Wow that was Very Nice & I Feel Better even Great!  I Believe My Massage is Wonderful & Unique!  I believe in Quality than Faster service and begging for Tips!  So please be Patient if I can't see you the Same Day you Called me! I try my Best Everyday to Schedule Fairly and remember if I have seen you before you can schedule the Day before too! Yay!
Again, My Massages are Not Boring or Stall like Old Bread! But at the Same time I'm not Pretending to Offer Massage.  You will find me Refreshing, Unique & Sweet! That said, I do screen my calls just a bit to get the right kinder folks in first. I respect Honesty and Sometimes like to be Blunt, like this… Hey, If you are Looking to Get Screwed even during Virus Times and now maybe spreading, Monkey pokes spreading now through Sex! Yikes! It's Your Body Not Mine! Go For It, Right On Dude! Not with Me though! Got it?  So Maybe or Maybe Not you stopped reading my Post! LOL. For those who still Dare to Read On, You will Join the Few who have Fun with me. Just hanging out Laughing Stretching along with Warm Healing stones with my Soothing Aloe Vera Gel along with my Deep Tissue or Softer Approach!   Did I mention my Prices are Very Fair to You too!  Cheers to a Wonderful Month! P.S… Thank you all for asking about Dolly Rose, my little sweet dog! She is much better now. August 6th I will be gone for the Day!
Cheers, Wendy Arlene!