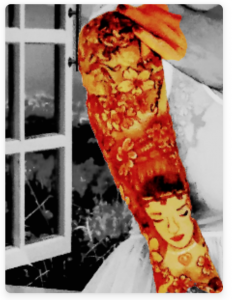 Well, I hope all my Friends near and far are hanging in there? Wow time flies and our Lives seem to be getting More & More expensive! I Love what I do in my Massage practice! Meet me 1/2 Way & We Will Both Have a Beautiful Therapy in the Art of Massage! Safer & Super Unique!
For Me, Miss Wendy to be a Happy, Funny and Still Hot Number! I must Screen my Calls & See Folks that Like Me, 4 Me! My Body Art Work, My Stories, My Love 4 Animals! Pets Welcome or to Talk About Your Late Pet! My Dolly Rose has been having Health Challenges & It's Always Hard When You Love You Little Angel So Much!
My Prices have stayed the Same, My Tattoos You Can Ask Questions & I will Discuss & Show You! See My Breath Taking Lights! Like Christmas in St. Augustine! Light Up My Quiet Private Space with a Bathroom and Body Wash/Scrub Available To Be Super Clean & Fresh! We All Like That!
Have You been to "Hand & Stone' Corporate Owned Places! Or When a Business says. "Massage Matters' But We All Know That False Advertising Is Everywhere. I'm Still Bummed About Buying, "Alien Tape' It Does Not Hold a Book Case! LOL
If You Just Want a Place to Drop Your "Tired, Worn Out Hide' Somewhere? See Me, Affordable & So So Relaxing & Even For The Super Serious! I Can Make You Smile with Humor & Time!  At Least Most!
Have a Beautiful Day! Shout out to a few Folks in the Carolinas! Hang in there Bro, Things will Get Better! Believe & Thank you for all the Positive Feedback & Support 4 America Small Business by Women! You are Greatly Appreciated!
Cheers, Miss Wendy