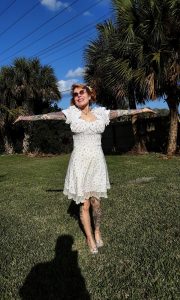 Hi Friends, I know the World is So Crazy & Expensive! I have keep my Prices the Same for Years and Intend to Keep it that Way! Most of all My Mission is to make Your Visit with me Unique, Rejuvenating & Most of All Get Your Muscles Working Right! Less Stress & a Happier You!
If You Have Not Been In For Awhile? Your Very Welcome To Visit & Enjoy All I Have To Offer You ….Deep Tissue, Specializing Thai And Swedish Style! Very Deep To Anywhere In Between with a Bit of Light Goose Bump Touch Too!
FYI: If You Are Super Convention and Not Into an Artsy Lass? That's Too Bad but OK than Maybe I will Not Be your Perfect Therapist! I do Appreciate You Checking Me Out & I Wish You a Great Day!
My Short Story about My Art Work ….I started  Adding Artwork on my Body about 8 years ago. You can see Beautiful Pictures of Me Without and Some with my New Art Work! If you see me in Person, I will Show You! All I ask is that if you Share About Me? Please Also Share Why?
I was in a Car Accident 12 years Ago. I had a few Scares and Eventually started getting into Adding Art to my Body! All My Art Work Represents My Love For Animals and That is Why I added More. I wish to Be a Spokes Person for Animals. Many of my Clients know I Love Animals! "  For " OPUS 1984″ A Review Guy…. We Both Like To Talk, Politics, Life, Art etc…. We probably talked too Much! Many of you Find me Interesting and Ask a lot of Questions during a Massage! Keep in Mine, it can take me Off My Game in Focusing 100% on Your "Great Massage' So Before or After Lets Chit Chat if You Wish! That said, "OPUS 1984′ We probably Talked to Much or I Did? LOL Your Review Sort of Sweet But than You Said, Quote "I Don't Do Massage' WHAT??? So No Hard Feeling, We Must Have Been Talking Too Much…. One Offer to You This Month, Before June! Call me or Text for an Appt on Me! OK? That is my Make Up Session to You! I will not be Upset. Just want you to FEEL in your words… For filled and hey try my 'New' Hand Wash Body Scrub' gets you clean like a Shower too!  Good Day!
Have a Beautiful Day!
Cheers